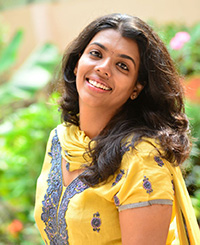 M.Sc (Clinical Psychology)
Super specialization in Psycho Oncology (PGDM)
Consultant Psycho Oncologist, Apollo Hospitals, Bangalore
Anuvinda Sadanandan hails from Kerala. Primary and secondary education was also done from Kerala. She completed her triple main degree (Clinical Psychology, Family Resource Management, Human development) from Manasagangothri University, Mysore with second rank. Later she moved to persuade her Masters in Clinical psychology from Christ University (Bangalore).
With her intense interest in working with cancer patients and their families, she further went ahead to pursued her superspecializartion in Psycho Oncology from Centre of Psycho Oncology Education and Research (COPER) After completion of the PGDM programme she worked as associate in psycho oncology in HCG hospitals Bangalore for a period of one year.
Currently she works as a Consultant psycho oncologist in Apollo Hospitals Bangalore.
Her area of interest is Grief counselling, Marital Therapy, DE addiction Counselling, Cognitive behavior therapy, Cognitive rehabilitation. She is determined and promising young Psycho oncologist oncologist.